What's going on with your Facebook Page's profile photo? In today's edition of "features social media platforms decide to change up," we're looking at a small feature change that has the potential for a big impact if you're not on top of how to adapt your image.
Here's the scoop:
Bottom line: Let's make sure your current Facebook Page profile photo isn't cutting off your image or cropping it in a wonky way (hey, we're all about creativity, but in the best way possible!). If you're thinking this image update is a bit different, but yet a little familiar, think of it like your Instagram profile photo (i.e., you can upload a square photo, but it ultimately needs to fill a circular space). The good news from that perspective is that you already work with small, circular profile photos if you're on Instagram, and there's potential to repurpose that image for Facebook. The bad news is that it is one more thing to check and upkeep.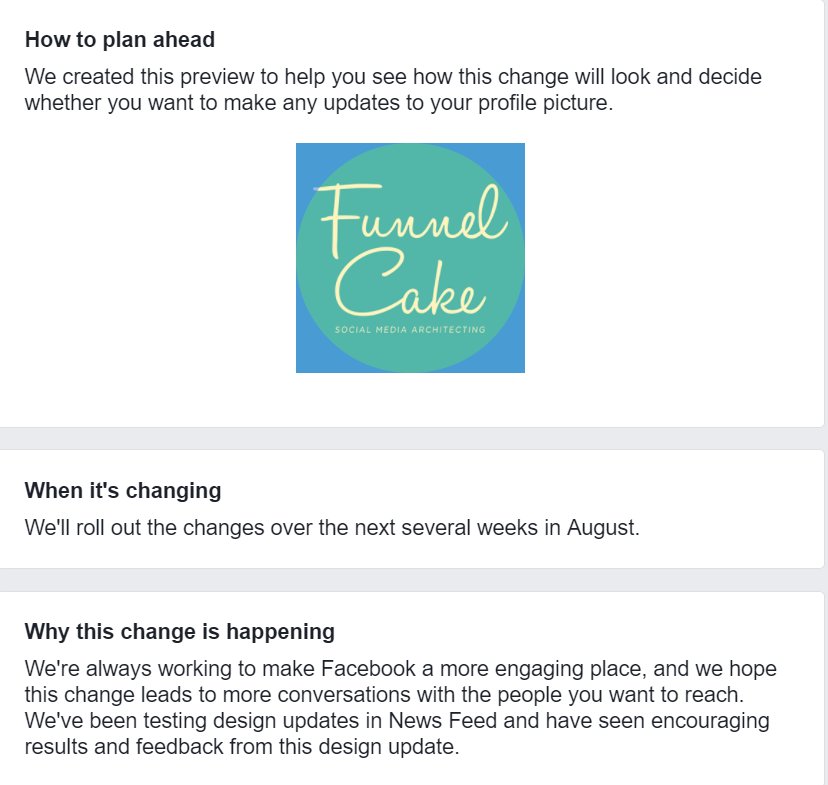 What this means for you:
Your profile photo may have already changed. If so, double check that it's showing a great image!
If your profile hasn't changed yet, keep an eye out for changes. Be prepared in advance by having an image ready.
Check your:

Instagram & Facebook: Are both photos putting your best foot forward in a small, circular format?
All social media accounts: Is your profile photo conveying the best message? Is it a good representation of you? If it's a logo, is it the most updated version and scaling properly? Is it consistent across all platforms? If it's an image depicting your services, is it clear and easy to view? Remember, these images are small space, and people won't be able to zoom in on platforms like Instagram.

Don't forget to do a routine social media and digital audit for accuracy! Social media platforms change quickly and frequently, not to mention things that change behind -the-scenes for you (translation: e-mail address, phone number, bio).
You aren't in this alone: Schedule a reminder within your group or community to check for updates, take advantage of free resources, and stay connected to new updates.
Keep sharing your beautiful, creative stories!
Cheers,
Anna